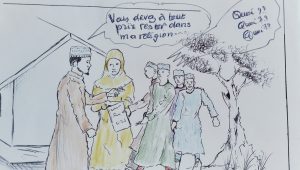 With funding from the International Coalition of Sites of Conscience, the Forum for Vigilant Memory produced two comics on inter-religious tolerance in refugee camps. https://bit.ly/3F4O8nR
Titled "Allow me to make my choice" and "The last incident", these comics were written and laid out by young Burundians who took refuge in the Mahama camp located in eastern Rwanda, under the supervision of Godefroid Sindayigaya , responsible for Education and Leadership within the FMV.
"Let me make my choice" tells the story of young Issa, whose father forced all members of his family to adopt his religion. After a disagreement which led him to be rejected from his family, Issa is the victim of an accident which leaves him permanently disabled. This story is a lesson on the harmful consequences of conflicts and tensions on faith or religious belief (FoRB) as well as the importance of allowing others to make their own choices.
Aimed at the general public and young people in particular, these projects, which have benefited from grants from the International Coalition of Sites of Conscience, are helping the public to begin to understand that while violent conflicts are regularly expressed in religious terms, in reality, violations Related human rights often have much more to do with economic, socio-cultural and political factors than with theological differences.
Below is the link to the results of the seven Community Engagement Grants.
https://www.sit esofconscience.org/en/global-action-2-inter-religious-understanding-through-graphic-arts/