The "Forum pour la Mémoire Vigilante", FMV,  in collaboration with "Spirit In Action", an international NGO, organised on Saturday 29th January 2022 a training seminar on positive ways of educating children.
The training took place in Muhanga, one of the districts of the South province of Rwanda sheltering FMV.
The most targeting, are parents of the children supported in scholarship program by FMV and its partners, Burundian Community of Texas (BCT) and Flaming Chalice International (FCI), responsible of paying school fees and school materials of about 50 students of primary and secondary schools.
Tackling the subject how much interesting, the trainer centred the topic on the permanent dialogue between parents and children for a positive education and parenting.
According to him, a child is an unavoidable partner who needs to be loved, esteemed, respected and appreciated.
"If necessary, the fact of asking for forgiveness to his child is a good practice of teaching him good manners of asking himself for forgiveness when he is wrong too. Punishing him or insulting him reinforces rather the bad habits instead of educating him positively", Emphasised Godefroid Sindayigaya Responsible of Education and Leadership pool in FMV, an NGO under Rwandan law.
He recommended parents to give always praise to their children, recognise their positive deeds not only insulting them always.
"A good parent must accept that each child is unique, must show compassion towards the child, supervise and take care of the child physically, mentally and spiritually. Be the friend of the child indeed",he added.
The participants, about thirty parents, were satisfied of the training seminar.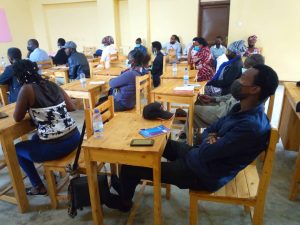 "It is a good occasion that grants me an opportunity to introspect myself, correct myself and change the bad practices that we use in the education of our children", state one of them.
"I was not aware that our children also need to be respected, I shall never insult my children", insisted each parent,  one by one.
They requested FMV to extend the training seminar in other to reach many parents."We really need them", they added.
In such training seminar, the "Forum pour la Memoire Vigilante" is challenged to contribute in the psycho-social domain of parents.