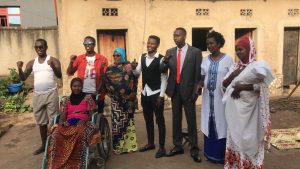 The "Forum pour la Mémoire Vigilante", FMV, in collaboration with the International Coalition of Sites of Conscience, produced a film which chronicles the life of refugees, victims of several forms of discrimination. It is played in the land of SOLFAL (imaginary name), where there are immigrants and refugees of different colours, races and religious beliefs.
We are in the poor village of "Ciel bleu" where the refugees live. Sex discrimination begins in families where girls are forced to drop out school because the financial means are not sufficient. Young girls are engaged in housework and are raped by their bosses. At school, refugee children are not eligible for scholarships even if they have a good grade. Young graduates do not have jobs simply because they are refugees.
Discrimination is also observed in public hospitals where refugee women have to pay a heavy sum of money when childbirth is free for citizens. Refugee children are not entitled to the vaccine, they must pay money for that. Parents watch helplessly and do nothing but to resign.
Calvary …
The story points on a Muslim family made up of a widowed mother named Marianna with her three children among two daughters: Aminata and Zainabo and a boy named Djibril. Zainabo is a child with a disability.
This family took refuge in Solfal (imaginary country) after the death of the head of the family, the father of the children, general in a regular army who perished on the battlefront with rebels.
In the land of exile, the widow tries to find a place in school for two of her children, Djibril and Aminata. It has not been easy for her because she has been repressed and discriminated so many times for just being refugees. Fortunately, she got the pla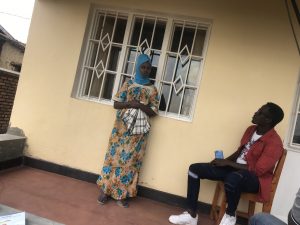 ce with the intervention of a local government authority.
At school, Aminata and Djibril are mistreated; not only because they are refugees but also because of their religious affiliation.; they are Muslims.
Suddenly, Aminata was forced to stop her studies for lack of funds and left to work as a housemaid in order to be able to help her family to survive. Her mother privileged the education of Djibril, his brother because he is a boy.
She manages to find work and does all the housework but is paid very little because she is a refugee. She will be manhandled by the boss's son and will be a victim of sexual abuse by her employer, then kicked out. She leaves without being paid.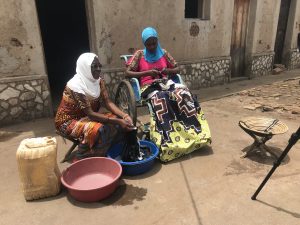 Her mother (Marianna) complains to the police station but the victim is not restored into her rights because of her refugee status.
Aminata will give birth at home due to lack of funds to cover medical care at hospital; and above all because in the public dispensary, the refugees do not benefit from free maternal health care.
His brother, Djibril, manages to finish high school. He is one of the lucky beneficiaries of a host government scholarship. However, the unfortunate young man will eventually find that he has been removed from the list because he is a refugee.
Afterwards, Djibril, sets out to find work, and will become a warehouse keeper in a construction site where he has spent five months without being paid. Unfairly accused of theft, he will be dismissed.
Desperate, Djibril goes to do transport using a taxi-bicycle to earn some pennies which he shares with his mother and two sisters.
As for Zainabo, the young disabled girl, she is discriminated against by her own family. She will want to go back to school that she left off, but her mother does not encourage her. Besides, she will be kicked out of the house, the family being ashamed of having a disabled child.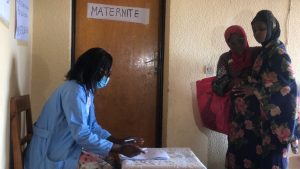 Following advice and investment from a village chief, Zainabo returns home. Later, she supervises herself in basketry and makes several works of art that will be much loved the neighbourhood.
She will participate in a craft exhibition and will be denied the right to enter. Reason: her refugee status.
She will be humiliated by people recruited to enlist participants in the exhibition, ironing that "this exhibition is not for the disabled people, let alone refugees.
Change of mentalities …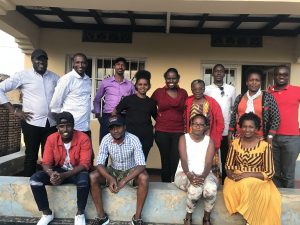 After a few years, a benefactor pays the school fees to Aminata. The latter returns to the school bench. Brilliant in the classroom, she completed her university studies easily and created a famous human rights association.
This association will carry out a national advocacy and awareness campaign for the respect of the rights of refugees, girls and people with disabilities. The NGO will help a lot of young mothers to get back to school.
In the end, Aminata involves her sister and brother in the activities of the organization she created to be able to give testimonies that will transform the system of governance in the land of Solfal in terms of respecting refugee rights in particular.
The family will be saved. Aminata will become one of the emblematic figures of recognised activists. Djibril will return to his state scholarship to continue his university studies. Zainabo will be a businesswoman and will participate in several national and international exhibitions.
"Where there is a will there is a way", "together, we cry out: stop discriminating against ourselves", one of the last sentences of the film which seems to sum it all up: a message which is also sent to everyone, young and old, citizens and leaders.