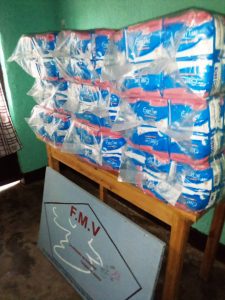 Since 2014, May 28 has been celebrated by the international community as World Menstrual Hygiene Day.
The choice of May 28 is not trivial. The menstrual cycle has an average of 28 days and the periods about 5 days (May being the fifth month of the year). ( To read Statement, click here  )
This day is essential to break the silence, widely disseminate the necessary information to young girls and women concerning menstrual hygiene and to question more widely the condition of women and the issues related to their periods around the world.
This day also promotes the idea that menstrual health is a matter of health, rights and dignity, equality and security.
As stated in numerous statements, articles, reports, "No menstruating person should have to worry about their next period protection. None of them should have to choose between a meal and decent sanitary protection."
However, what is called "menstrual poverty" affects approximately 500 million people worldwide. Menstrual precariousness thus refers to the difficulties many women and girls have in affording sanitary protection because of their low income. The term also covers the increased economic vulnerability suffered by women and girls due to the financial burden of sanitary protection in their budget. This financial burden does not only include sanitary napkins or tampons, but also the cost of painkillers and new underwear.
No state is spared. No part of the world is immune to this phenomenon. The rich and industrialized countries are concerned as the developing countries. Yes, women are not all equal in the management of menstrual hygiene!
Global and national health and development policies must make menstrual health a priority, with investments reflecting the important role in human rights, public health, gender equality and sustainable development.
Today, awareness of this issue is growing. Measures are taken but remain insufficient for such a challenge.
This World Menstrual Hygiene Day is therefore essential to reflect, together, on the solutions to be provided for girls and women in vulnerable situations faced with menstrual management.
The Forum for Vigilant Memory (FMV) located in Rwanda is very sensitive to this issue. Initiatives have already been taken by this non-governmental organization which works for the poorest populations in the community of refugees, internally displaced persons, returnees and immigrants.
GMF joins the world on this World Menstrual Hygiene Day and reiterates its commitment to continue its reflection and to consider new measures to be taken at its level.
"It is together that we will be able to find answers. Because to break the taboos that surround this question, we must also talk about it".