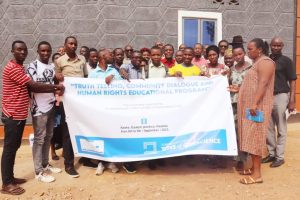 The NGO "Forum pour la Mémoire Vigilante, FMV" (Forum for Vigilant Memory) is conducting a project "Truth telling, community dialogue and Human Rights Educational program" under the funds of International Coalition of Sites of Conscience.
The activity is carried out in the burundian refugee community, living in Rwanda.
The first three-day session was held in Mahama Camp, located in Kirehe district in the Eastern Province of Rwanda.
Around forty Burundian refugees representing their compatriots, community leaders, religious leaders and even elders people participated to this session.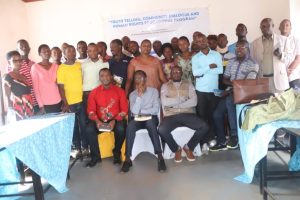 The local administration of the Mahama sector where the Mahama camp is located welcomes and supports such activities in a camp which houses a population of more than 55,000 refugees, mainly from Burundian, the rest being Congolese.
According to Project leader Mr Godefroid Sindayigaya, the project is about speaking the Truth about the History of Burundi, engage dialogue among the community of refugees especially young people and teach them Human Rights.
"This is because in Burundi, young people have never told the Truth about what really happened in Burundi and why. Truth has been distorted based on ethnic belongs. Moreover, people have been diverted from knowing the truth by political leaders seeking their own interests. In short Truth has never been spoken in Burundi".
He adds that "the consequences of the situation is that victims of 1965, 1972, 1988, 1993, 2015….have never had any framework of speaking out what happened to them. Victims accuse other victims of killing them. Young people are now victim of the spirit of vengeance".
The speakers underlined that consciously and/or unconsciously the conflict of memory is lived, lived by the victims and finally passed on from generation to generation, which explains the profiles of criminals found in all communities.
"Burundi risks to live endless cycles of revenge. We want in our project to dissipate the spirit of vengeance and help people ask one another's forgiveness, we want Burundi refugees in Rwanda to know the Truth, to freely talk about what happened to them, help them heal their wounds, teach them Human Rights and annihilate in their minds any spirit of vengeance", they insisted.
"In short, we want to build a society of mutual respect, love for one another and compassion. In doing so we can build the future of Burundi with lasting peace"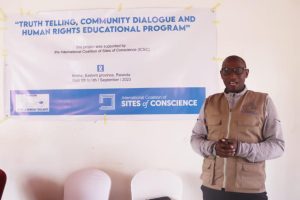 The legal representation of Forum Pour la Mémoire Vigilante  takes this opportunity to thank the speakers of the first session of the project funded by the International Coalition of Sites of Conscience : Prof Alphonse Rugambarara, Dr Psycho-clinician Dénis Kazungu and the project manager Godefroid Sindayigaya.
These prominent proponents of transformational leadership have not threatened any efforts to raise awareness about the responsibility to tell the truth, promote dialogue and human rights.
"By transmitting a conflict of memory, someone will understand either that they are being invited to take revenge (crimes based on revenge) or that they are being warned about the danger of the other community and the child can kill more late to protect himself (kwitanga umwansi) or he will kill in self-defense (kwivuna)," they said.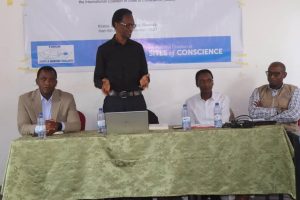 As a way out, they concluded, "we must develop a sense of recognition of the suffering of all victims. Acts of commemoration for all victims must be institutionalised and memorial markers that truly reflect what happened must be erected. History should not continue to deprive victims of access to memory and commemorative markers."
The project will last nine months until April 2024. Other similar sessions are planned. They will have to focus on raising awareness, making Burundian refugees aware of how to tell the truth, advocating community dialogue as well as the educational program on human rights.
The next beneficiaries of the project are those of Huye and Muhanga in the southern province of Rwanda as well as Kigali, the capital of the host country.
The "Forum pour la Memoire Vigilante (FMV)" is an organisation under Rwandan law, which is based on the values of Memory, Education and Prevention. This NGO is a partner of the International Coalition of Sites of Conscience founded in 1999 and which is the only global network of Sites of Conscience.
Both organisations share a common commitment to using lessons from the past to find innovative solutions today to related social justice issues and the fight against genocide, crimes against humanity and atrocities of all kinds.
Some pictures of the session: