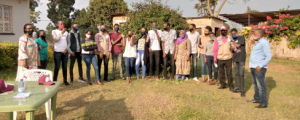 The "Forum pour la Mémoire vigilante, FMV" and "Flaming Chalice International, FCI", an NGO under Canadian law, want to put an end to juvenile delinquency among young Burundian refugees in southern Rwanda.
Indeed, following the declaration of the Covid-19 in Rwanda last March, the students were forced to stay at home, one of the preventive measures for this pandemic. Some of these young people, especially adolescents, subsequently displayed undignified behavior in the community.
To keep these young people busy, two training sessions on the fight against social scourges including juvenile delinquency were then organized by the FMV in partnership with the FCI in two districts of Muhanga and Huye in the southern province of Rwanda.
These activities took place under the theme, "All for the education of refugees", during this month of October 2020.
"The idea came from the wish to usefully occupy the young people on forced holidays who are supported by our two organizations FMV and Flaming Chalice International, FCI". The vacancy period of more than seven months was not easy for them ", explained Reverien Gahimbare, vice-president and deputy legal representative of the FMV, after one of these sessions in Muhanga on October 7th.
About twenty young adolescents, representatives of the refugee committee and parents attended this meeting.
"This activity was supported by an international organization governed by Canadian law based in Canada, the Flaming Chalice International (FCI). This organization also helps in the education of certain Burundian refugee students in Rwanda through  Forum pour la Mémoire Vigilante (FMV)", indicated Mr. Gahimbare by way of launching these activities.
What about juvenile delinquency …
One of the themes addressed is juvenile delinquency. According to Mr. P.Claver Niyonkuru who animated the session, this scourge threatens more young people.
"Juvenile delinquency is a great danger for young people. It includes the consumption of drugs, unwanted pregnancies among young girls, excessive alcoholism, adultery or debauchery, rudeness of youth, loss or ignorance of the Burundian culture of good behavior,… ", he explained before adding that these ailments take away many young adolescents.
As consequences, he specified, "these are the eloquent figures of school drop-outs, loss of confidence in the community, young people who are imprisoned or put in cultural rehabilitation centers, banditry, etc.".
He called on young people to be more responsible, especially these young refugees because, he said, they are vulnerable victims. "The future is in your hands and you are responsible for it, take advantage of this youth to build your future", added P.Claver Niyonkuru.
How to consume my youth?
This is a topic addressed by Mr Jean de Dieu Niyongabo. Based on the illustrative images and photos, the speaker advised young people not to let go and be carried away by behaviors that endanger their lives.
"You see the pictures of young people drinking alcohol back and forth, after you see them walking the streets, towards the end you see them with unwanted fat ones. On the other end, these are young people who end up in prisons after having consumed drugs or been involved in banditry ", he showed.
For him, good behavior at a young age leads to happiness and a happy ending.
"You must concentrate on studies, managerial work, learning new professions in order to mature your youth and ultimately build model homes like these photos of old and old who laugh even at the age of toothless" insisted Jean de Dieu Niyongabo.
Vacancy as cause
These young pupils and schoolchildren greatly appreciated the training session. However, according to them, vacancy and poverty are the main causes of this juvenile delinquency.
The president of the refugee committee in Muhanga does not agree with these young people at all.
"The primary responsibility is with the young people. Yes, we do not have sufficient income because we are refugees. But this in no way justifies these scourges. Because these drugs and very alcoholic beers, they are very expensive. Where do these young people find the money to buy them? I would advise them rather to be aware of the danger that awaits them ", underlined Mr. Etienne Nibaruta, recalling that he most often makes interventions to free young Burundians taken and imprisoned for these misdeeds.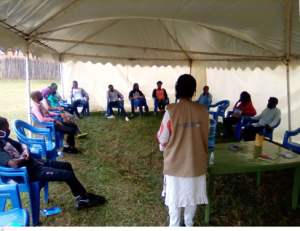 He warmly thanked the organizers of this activity, including the Forum pour la Mémoire Vigilante and the Flaming Chalice International. For him, we must multiply such discussion sessions with young people because this can reduce conflicts in the family.
Same story as the vice president of the committee of refugees registered in Kigali, Mr. Kadagi Benoit, also present in the meeting.
"This is not the first time that I have participated in workshops organized by the Forum pour la Mémoire Vigilante. We must also congratulate and encourage the Flaming Chalice International because working with young people gives us more hope as parents. We should also   plan other meetings between young people and their parents, "he recommended.
The district of Huye is not forgotten …
The same activities organized in Muhanga were subsequently carried out on October 17, 2020 in Huye, another district of the southern province of Rwanda.
Here too, the training session for young people was made possible thanks to the NGO Flaming Chalice international, an organization that also supports ten Burundian refugee students in Huye and Muhanga.
Three speakers and lecturers, Mr. Vincent Nzisabira, at the same time president of the refugee committee in Huye, Madame Espérance Bantegeyahaga and Frédéric Niburana in turn led more than twenty young people.
"Taking drugs has serious consequences, young girls must avoid any contact likely to expose them to debauchery and / or unwanted pregnancies, bad companies are to be banned, young people must keep Burundian culture even if it means that when they return to the country they will have a good experience to share with others ", they stressed.
Parents in Muhanga and Huye positively appreciate the fact that the young people have a go together to discuss their problems.
"I am very happy to see these young people sit down together. In any case, this is the first time in Muhanga that young people meet for such important exchanges. I ask that these meetings be organized at least three or four times each year, so that we will have a well educated and responsible youth "noted Mrs. Agnes Hakizimana, in Muhanga.
"I ask that we increase these exchanges with young people because some parents do not dare to speak frankly to their children on issues related to young people 's problems, especially questions taken as taboo by our culture, sexuality" , for her part indicated Madame Triphonie, in Huye.
The NGO Flaming Chalice international, wishes to cut short the juvenile delinquency of young Burundian refugees in Rwanda in general and especially for those who are supported by this NGO in terms of primary and secondary education.