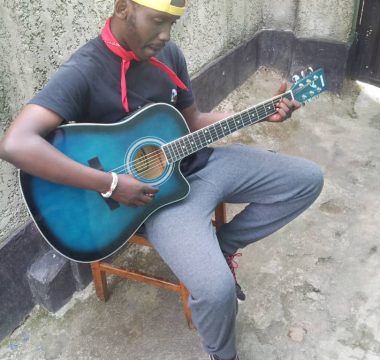 On June 20 of each year, the world celebrates the day dedicated to refugees and asylum seekers. The theme chosen for this year is: "Each of us can act and bring a positive change to the society, for a fair and inclusive world, because every action counts".
With the precautionary measures against Covid-19, UNHCR recommended that there wouldn't be official ceremonies.
The UN recognizes that even if this population subject to refugee status faces difficulties, they contribute to the development of the host society.
This is the case of Samuel Col Iradukunda, a young musician Burundian refugee. Speaking on the chosen theme, he said that everyone can act.
"I discovered in myself the talents of musician. I play the guitar with two young Rwandans, friends of mine. A refugee like me who is responsible for the musical band! This already shows that we can act," he recognizes.
This young Burundian refugee embarked on "RnB" style music, music of love and peace.
"My music can help me first to forget the consequences of being a refugee and to create a link between me and the outside world and ultimately contribute to peace education and a peaceful cohabitation," said Samuel Col Iradukunda.
The exile-domination …
Before fleeing his country, Samuel Col Iradukunda said that he had never thought of music.
"In fact the idea came to me from the life of exile here in Rwanda. Sometimes I want to make myself forget the consequences resulting from our exile situation. So I create links with Rwandans, the host community. Every gesture counts, even if it is made by a refugee because being a refugee does not mean being physically or mentally disabled," says Samuel Col Iradukunda.
Other refugees trade and pay taxes. During this Covid-19 period, Burundian refugees of Mahama camp participated in the making of more than 50,000 masks to protect the population of this camp located in the East of Rwanda.
The world of civil society has not been left out by Burundian refugees. This is the case of an NGO created in 2017 by Burundians living in Muhanga District in the  southern province of Rwanda.
"We thank the government of Rwanda for making it easier for us and we have complied with the law on Non-Governmental Organizations. We have created a public interest organization, Forum pour la Memoire Vigilante (FMV). Besides public institutions, UNHCR and its partners, our NGO has added value and makes a contribution to refugees and immigrants," declared Mr Ferdinand Ndayiragije, legal representative of FMV.
This organization has a vocation of memory, education to peace and genocide prevention.
"Refugees (priority) and immigrants have unhealed wounds and trauma that affect the psychological, social, medical and legal aspects. It is in these areas that we often intervene", he insisted.
For decades, the African Great Lakes region has faced serious crises and ethnic conflicts, resulting in several victims and refugees. This NGO wants to put an end to the expansion of the ideology of the genocide which is spreading and gaining ground particularly in Burundi, Rwanda and DRC.
"When they return to their countries of origin, refugees must not take revenge and then create a crisis situation which gives birth to other refugees. This vicious cycle must be stopped," adds Ferdinand Ndayiragije.