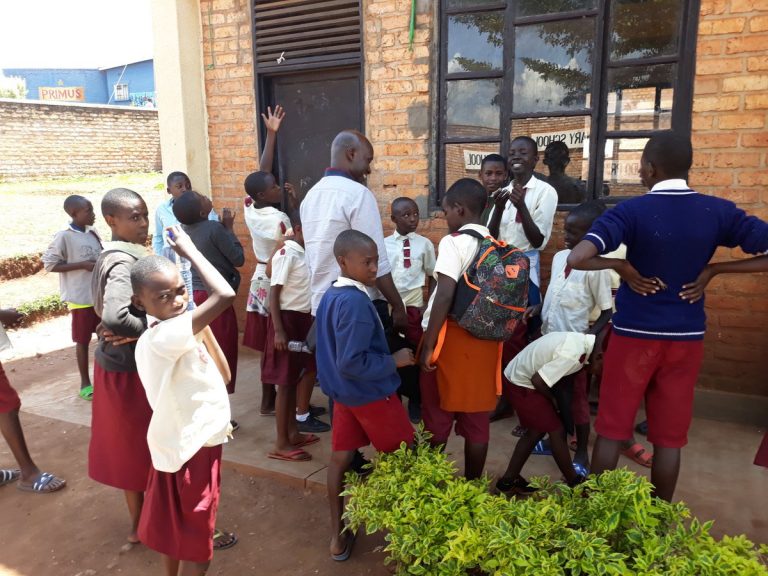 Thursday, april 18th, 2019, the FMV, Forum pour la Mémoire Vigilante, visited the refugee students of the district of Huye, in the south of Rwanda, beneficiaries of the school support of the Burundian community of Texas (USA) in collaboration with this Regional NGO. As a first step, this community supports eight students.
The aim was to be aware of the state of play and to encourage these young Burundians to improve their school results. The FMV is pleased to have noted that they had a good first quarter score.
Ferdinand Ndayiragije, FMV's legal representative, urged these refugee pupils to work diligently to exploit the opportunities they have. According to Ferdinand Ndayiragije, the Forum and the Burundian community of Texas will spare no effort to support these young Burundians.
According to him, it is intolerable to see a pupil or refugee schoolboy, who has received the minimum possible to study, but who does not make much effort to work in order to have a better grade.
In order to encourage the efforts made, the FMV team reassured them that those who qualify first will have another noble chance to be retained to continue their studies in schools of excellence.
The education officer at the forum, who is also chairman of the Refugee Committee in the Southern Province, did not fail to advise the parents of these refugee students, whose studies are sponsored, to always play their role on the evolution of their children.
According to Vincent Nzisabira, basic education received by the family is an essential asset in the formation of the integral personality of man.
The parents of these young refugees warmly thanked these partners in the education sector. Jacques Ntezimana, one of these parents suggested that the FMV organizes at least one visit to these refugee students once a month for monitoring-evolution and find solutions to possible challenges that may arise.
For these Burundians, this could be considered as one of the strategies to improve their school results.
The Forum pour la Mémoire Vigilante calls upon national, regional and international nongovernmental organizations to support hundreds of young Burundian refugees in Rwanda who have dropped out school due to lack of resources. "These young people are the key to a better Burundi in the future," says the FMV.